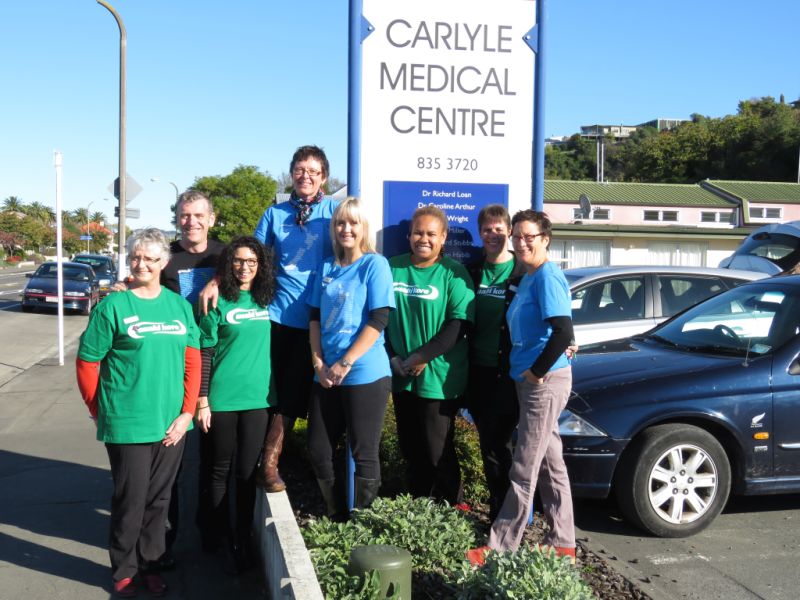 Carlyle Medical Centre provides high-quality, personalised family medical care. We pride ourselves on providing the best possible patient experience, including accessibility and responsiveness.
Our Doctors

• Dr Caroline Arthur - MBChB, DRCOG, MRCCP, FRNZCGP
• Dr Hanan Habib - MBChB, M.Ped. (Cairo), FRNZCGP
• Dr Janet Miller - MBChB, DRCOG, DCH, MRCCP, FRNZCGP
• Dr Caitlin Northern - MBChB, MRNZCGP
• Dr Rachael Stubbs - MBChB, DCH, Dip.OMG, FRNZCGP
• Dr Richard Stubbs - MBChB, DCH, FRNZCGP
• Dr Matt White - MBChB, FRNZCGP
• Dr Tim Wright - MBChB, DRCOG, MRCCP, FRNZCGP
In addition we are a teaching practice supporting GP registrars and student nurses.
Nursing Team
We have six nurses –
• Karen Marshall, our Nurse Manager.
• Cath Thorp
• Julie Frame
• Paula Dunn
• Sally Scott
• Natalie Robertson

Reception Team
You will be welcomed into the practice by our administration team -
• Rowena Warren
• Jill Dinsdale
• Gina Brinton
• Trish Giddens
• Andrea Mackay
• Jessica Hesketh
• Olivia Cachemaille
The Practice Manager is Karen Mischefski
We have 8 consulting rooms, a large nurses consulting room and a large modern treatment area with 3 treatment bays. Our patient management system is MedTech 32.
The practice currently has 6,500 patients with a wide social and age mix. We consult by appointment but try to accommodate emergencies if possible. We also carry out a significant amount of medical and occupational health services for local businesses.
Opening hours are usually 8:00am through to 5:30pm; Dr's Wright, Arthur and White provide late evenings (7:00pm) for their patients only on Tuesday and Thursday.
We are part of Health HB PHO and have capitation based funding. Our out of hours cover is provided by City Medical. We are a connected and cohesive team – we pride ourselves on being patient-centre, proactive in addressing health inequities, culturally aware and supportive of each other as colleagues.